A few months ago, three sets of Kefid mobile crushing plants with a value of about USD 700,000 are delivered to Papua New Guinea from Zhengzhou Kefid Machinery Co., Ltd. Now, the three sets of mobile crushing plant are installed and debugged by our technical engineers, then successfully get into operation. The YG series mobile crushing plant is the professional crushing plant which is more convenient and flexible to move for crushing. It will bring the mineral stone crushing industry into a new era and it will bring more benefits to our customers.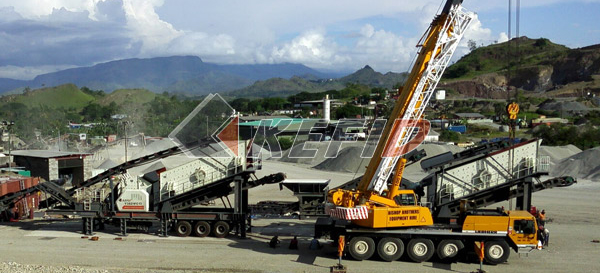 Zhengzhou Kefid Machinery Co., Ltd. is a leading manufacturer of crushing and screening plant and grinding plant in China, who is professional in researching, designing and applying advanced technology into mineral processing machinery. The equipments strictly manufactured by Kefid are sold to all over the world, with a fantastic reputation in our customers. With the faith of "Designing and Manufacturing Excellent Crushers", KEFID will go to more and brighter future, and bring more and more benefits to the customers in the whole related industry.

Information of Kefid Mobile Crushing Plant :
Kefid explores and develops this series mobile stone crushing station (portable crusher), which is the crushing equipments for rocks and construction waste, and expands the conception of primary and secondary crushing operation. Kefid leads the way with state-of-the-art track-mounted and wheel-mounted crushing plants. Now we have five type crushing plant: Crawler Mobile Crusher, Mobile Jaw Crusher, Mobile Impact Crusher, Mobile Cone Crusher, Mobile VSI Crusher.