Stone crushing and screening line is successful application in limestone, granite, graystone, marble etc. stone process, so as to meet the national standards of stone or sand, which are widely used in construction, road, railway, water conservancy, concrete mixing plant. The stone crushing line provided by kefid have the advantages of high degree of automation, large capacity, high efficiency, large quantity, cube shape of final materials and so on.
A complete stone crushing and screening line usually include: vibrating feeder, primary crusher, secondary crusher, vibrating screen, conveyor belt, and electric control panel and so on. In order to meet different customers' requirement, kefid company also can provide vertical shaft impact crusher to reshape the final products and dust removal equipments to purify environment. When crushing and screening, raw materials are first put into primary crushing (Jaw crusher), then the belt conveyor transfers the elementary products to the secondary crushing machine for secondary crush. Secondary products will be separated into two kinds by the vibrating screen. The parts satisfying the standard of the vertical shaft impact crusher will be conveyed to the sand making machine and the other parts will return to the secondary-crushing machine.The suitable size will be transferred to the vsi crusher, this forms a closed circuit manifold cycles. So as to get the customer required products and used in construction and manufacturing industries.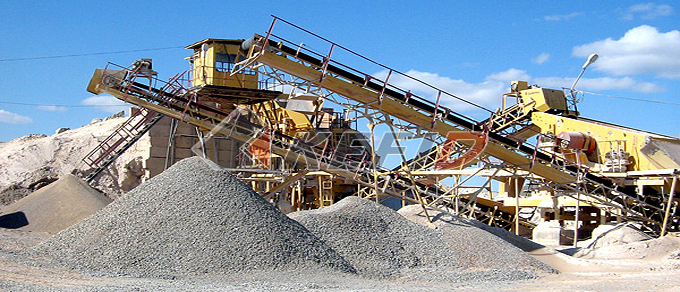 Stone crushing line has two types, stone crushing plant and sand making plant (the final size of which are below 4 mm). Every crushing plant have different equipment configuration according to customer different material, capacity, final products, etc. Kefid company have a professional technical team and sales service team, if you have any question, please feel free to contact with us for support.