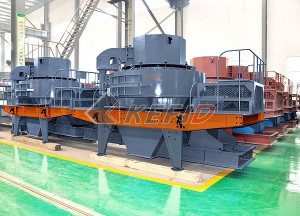 Kefid B series VSI crusher is newly researched equipment, with international advanced level. The VSI crusher is specifically for the production of high-quality gravel aggregate used in highway, railway, high-rise buildings, municipal, hydroelectric dam construction, and concrete mixing sand, and it is the first choice of the artificial sand making area and stone shaping area. It is applicable to the fine crushing techniques in the front of mining sector, and applicable to the material crushing of building materials, metallurgy, chemical, mining, refractories, cement, and abrasive industry. Besides, it also can be used in highly abrasive material and secondary disintegration crushing of it, and used in desulphurization in thermal power and metallurgy, and the environmental protection projects such as slag and construction waste crushing, and glass, quartz sand and other high purity materials crushing.
Technical Parameter :
Mm to inch conversion: 25.4millimeters=1 inch
Model
B-7611
B-8518
B-9526
B-1140
Capacity (t/h)
Center and Ring feeding
120-180
200-260
300-380
450-520
Center feeding
60-90
100-130
150-190
225-260
Max Feed Size (mm)
Soft material
<35
<40
<45
<50
Hard material
<30
<35
<40
<45
Rotation speed (r/min)
1700-1890
1520-1690
1360-1510
1180-1310
Power for double motor (kW)
110-150
180-220
264-320
400-440
Overall Dimension L×W×H (mm)
3700×2150×2100
4140×2280×2425
4560×2447×2778
5000×2700×3300
Weight (t)
7.8
10.3
16
25.6
Power Source
380v 50Hz
Vibrating Sensor
Inspect scope: 0.1-20mm/s adjusted continuously
Lubrication hydraulic pressure station
Power for double oil pump
2×0.31kW
Safety
To make sure the supply of the oil with double oil pump; stop working without oil or hydraulic pressure; temperature falls when the water cools; start the motor by heating it in winter.
Power for oil box heater
2 kW
Note: Any change of B series VSI crusher technical data shall not be advised additionally.