The JC series of European jaw crushers have been developed on basis of many years proven experience and can be used for secondary and fine crushing to process hard and abrasion mineral stones and rocks in metallurgy, mine, chemical, cement, building construction, fireproof material and ceramics industry. JC Series Jaw Crusher is ideal crusher to crush the mineral stone, rock and slag with compression resistance below 320Mpa.
Features: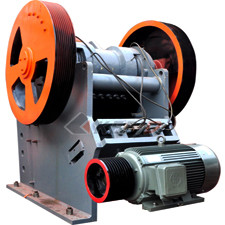 1. World-level manufacturing technology is adopted, and highest-level raw material is used.
2. More advanced movable jaw assembly lengthens life of crusher.
Movable jaw assembly is made from cast piece with high-quality, is driven by two large flying wheels which are made from cast steel. Moreover, heavy eccentric shaft is processed by forged mold. These entire make the JC series jaw crusher extremely reliable.
3. Integral cast steel structure is adopted for bearing seat. Integral cast steel bearing matches well with the crusher frame, at the same time, radial strength of the bearing seat is highly strengthened.
4. Finite element analysis technology is adopted to make the crusher much stronger.
5. Crusher chamber adopts "V" structure which could make actual feed width comply with the nominal one.
6. Adjustment of the discharge part is more convenient.
The adjustment methods: gasket adjustment, hydraulic assistant adjustment, wedge block and wedge hydraulic adjustment.
7. Bearing with larger model and higher load are used.
All JC jaw crusher is equipped with larger bearing compared with same model of normal jaw crusher. Its higher load capacity and effective oil seal will lengthen the life of bearing.
8. A newly designed tooth-shape side plate, makes the available area of jaw plate longer, and enhances the capacity.
Technical Data:
Model
JC760×1100
JC840×1100
JC1100×1200
JC180×1300
JC250×1000
JC250×1300
JC400×600
Opening Size
(mm)
760×1100
840×1100
1100×1200
180×1300
250×1000
250×1300
400×600
Max. Feed
Size (mm)
620
720
930
150
220
220
350
Discharge
Opening Range
(mm)
75-200
100-225
150-275
10-30
20-40
70-100
35-85
Shaft Speed
(r/min)
270
240
210
320
330
290
250
Capacity (t/h)
150-350
200-500
300-650
12-35
15-50
26-85
15-70
Motor
Power
(kw)
110-132
132-160
185-200
30-37
30-37
37-45
37-45
Speed
(r/min)
985
985
740
980
980
980
980
Dimension
(mm)(L×W×H)
2600×2500
×2200
3300×2320
×3120
4140×2660
×3560
1320×2150
×1175
1400×1850
×1310
1450×2150
×1175
1920×1460
×1840
Weight (kg)
24000
32000
59200
6000
5600
6800
7000
Note: Any change of European Type Jaw Crusher technical data shall not be advised additionally.